Clare Teal
Hear Clare, Sundays, 9-11pm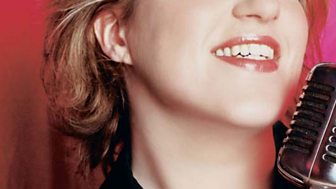 Yorkshire born Clare Teal has been able to sing in tune since the age of three. Growing up in Skipton she developed a fascination for jazz and jazz singers after listening to her grandmother's old 45s. After music lessons on electric organ and formal studies on clarinet, Clare took a music degree at Wolverhampton Polytechnic.
It was during her training that she realised that her prime ambition, to be a classical clarinettist, was unachievable, so she shifted her emphasis to singing. She became a jingle singer for commercial radio before 'getting a proper job' in the advertising business. Clare sang with jazz bands for beer money, entered a national contest to find the next Billie Holiday (she came second) and finally got a break when she filled in for a singer at a jazz festival. The feedback was so positive that Clare decided to follow her dreams and pursue a career as a singer, so sent a demo to jazz label Candid who offered her a contract.
Her debut album 'That's The Way It Is' was released by Candid in 2001 and now that she was reaching a wider audience Clare began to achieve the recognition she richly deserved. In 2002, she performed in Portugal as part of the Great Ladies of Jazz tour, with Stacey Kent and Cassandra Wilson and received the ' CD of the Week' review in 'The Observer', the front cover of 'Jazz UK' and a major article in the 'Guardian'. Her second album Orsino's Songs was released in 2002 attracting further critical acclaim and the attention of Michael Parkinson who played it regularly on his Sunday radio show.
The plaudits have been incessant. Michael Parkinson declared it to be "the best record I've heard from an English artist since ... well, I can't remember when." 'The Independent ' crowned her as "The new first lady of Jazz". 'The Daily Mail' described it as "Fabulous" and the 'Daily Telegraph 'advised "In this overcrowded field, Clare Teal deserves special attention." Clare appeared as special guest with the BBC Big Band in April 2004 in a 'Big Band Special' recording for BBC Radio 2.
In August Clare presented her own series on BBC Radio 2 'After Seven with Clare Teal' and in October she performed a show-stopping performance of 'Messin' With Fire' on Michael Parkinson's ITV1 show and received the Marlborough Jazz Festival's Deacons Award for best live performer. In November Clare received the Arts and Personality Award at the Yorkshire Awards and the Achievement in Arts Award at the Yorkshire Young Achievers Awards. Clare stole the show on ITV1's 'Christmas Mania' when she performed a festive rendition of 'Winter Wonderland' and made a special appearance on BBC Radio 2's 'Friday Night Is Music Night', live from London 's Mermaid Theatre with the BBC Concert Orchestra.
She was also chosen by BBC Radio 2 to present their 40th anniversary celebration performance of Stan Tracey's 'Under Milk Wood'. In July 2005 Clare won "Best Vocalist" at the 17th British Jazz Awards (The Jazz Oscars). 2005 brought even more excitement including a special charity concert at Bath with Jamie Cullum, The Tower Of London Festival with Katie Melua, a Regents Park "Open Air" concert, and BBC 'Proms in the Park' with the BBC Big Band which saw Clare perform in front of a crowd of 43,000.