Nick Luscombe
DJ and broadcaster Nick Luscombe has been described as a "restless musical soul". He's constantly on the look-out for sonic goodness from all corners of the earth, and eager to share new discoveries through his radio shows and numerous DJ sets.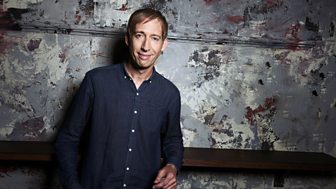 A massive Late Junction fan since the programme's inception, Nick has been part of the team since 2010. He has also presented music radio programmes across various commercial stations, the BBC World Service and for BBC 6 Music (6 Mix), and is well rehearsed on the "other side of the glass", having produced his own radio documentaries for BBC Radio 1 and Radio 2, as well as various independent features.
Nick has also worked as both Music Editor at iTunes and Director of Music at London's Institute of Contemporary Art, and is the founder of Musicity, an international sound project that fuses music, architecture, memory and experience. When not scouring the remote corners of musical treasure troves for sonic gold, he lectures about sound art at universities, and is an in-demand field recording and sound archive creative for installation and live work.