Margaret
Margaret is the governor of Broadmarsh Prison and believes that appeals are an irritation and a waste of valuable resources.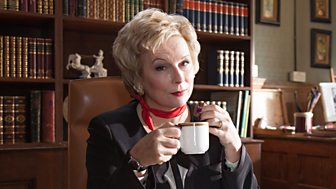 Margaret has a unique approach to her job as Prison Governor, that approach being to create as little paperwork as possible and to focus on her oil paintings.
Think of today as the first day of the rest of your life sentence.

Margaret
As head of Broadmarsh, Margaret processes all inmate appeals, including Helen's. Although she claims to believe that Helen is innocent, the paperwork that comes along with the appeal could disrupt Margaret's busy fine art schedule.