Patricia Meehan
Newsroom journalist and 'Paddy' to anyone who knows her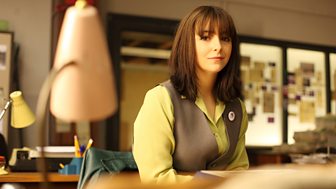 Determined to prove to her doubting Daily News co-workers that she's a serious investigative journalist, Paddy eagerly searches for stories on the night shift with fellow reporter McVie. But after a call to a fracas in a posh part of Glasgow, she unwittingly uncovers police corruption, a government conspiracy and murder.
Whilst simultaneously trying to solve the case, navigate a dangerous flirtation at the 'cop-shop' and support her suffocating family who flounder amidst the miners' strike, Paddy may find that she's way out of her depth.
Jayd Johnson plays Paddy Meehan
It's all change for Paddy this series…what's happened?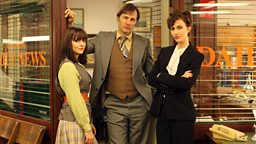 To get to go back to an era in history you weren't part of is pretty special.

Jayd Johnson
She's now a fully-fledged reporter, she's moved up from the copy bench and she's now a reporter working in the office, going out in the call car with McVie. Weirdly, they've become a great little team, Paddy's finally confident about the way she looks and the relationships she has with the men in the office – she thinks she's grown up but she still has a lot to learn.
What is the storyline for this series of The Field of Blood?
It's centred around the miners' strike and it's all about uncovering the truth and the threat to the Daily News newspaper. Devlin being undermined by the arrival of Maloney is a real issue for Paddy because she's loyal to him.
What challenges await for Paddy in this series?
Her being too trusting is a big issue for Paddy – she'll soon find out that you can't believe everything and everyone, especially in her line of work. She has got lots of great friends and colleagues but there are those who are just out for themselves, only watching out for number one.
How does Paddy feel about the arrival of Maloney in the newsroom?
When Maloney first comes in Paddy's so excited. She's thrilled to see a woman in charge and Maloney hints that they'll really get on together and because they're lone women, they can watch each other's backs. She thinks they're going to be friends but things don't always work out the way Paddy wants them to.
Does she see Maloney as a female ally?
Oh absolutely. Maloney is successful, she knows what she's doing, she's really smart but Paddy needs to be careful of Maloney. It's true what they say - keep your friends close but your enemies closer.
What sort of relationship does Paddy have with Devlin and McVie?
With Devlin, Paddy's always going to look up to him. He's the editor of the newspaper and that's her ultimate goal. Through this storyline she starts to see a different side to Devlin and she's disappointed he's not standing his ground enough. But she still idolises him and knows he's got her back.
And with McVie, they've come almost 360 with their relationship. They still like to pretend they hate each other but they have a lot of respect for one another. McVie is someone to look up to, he's teaching her the ropes and how to become a better journalist. I'd probably go as far to say they're each other's closest friends in the newsroom.
Have her family accepted Paddy's chosen career as a journalist?
You would hope so but it's clear her mum will never come round to the idea of her daughter as a news reporter. Their beliefs clash, they see the world very differently and Paddy's mum doesn't think her choice of profession is right for a young Catholic woman.
What did you make of your new newsroom?
It was amazing – our set designers are genius! We thought the first one was good but this one topped it. The attention to detail was incredible – there was even a 1980s coffee machine which was huge, it was perfect. The set really helped us all get into character.
Is it good stepping back in time for The Field of Blood?
It was so much fun, especially as I wasn't even born in the 80s. I love period drama, that is my favourite style of acting. To get to go back to an era in history you weren't part of is pretty special.
This time around I did a little more research into the politics of this era. My friend and I even went to see The Iron Lady with Meryl Streep and we started off feeling a little sorry for her but quickly realised why she was hated by so many, especially the way she treated the miners during the strike.
What inspires Paddy to become a reporter?
Well her name for starters. People commenting on her name has made her research it and she got the journalism bug. For her, reporting can make a change in the world. She wants to make a difference.
Paddy has grown up a little since the last time we saw her not least in the wardrobe department. How has her style evolved?
She's got a lot more colour than she did the last time! She wears this amazing ¾ length leather jacket which was so cool. She's getting really comfortable with playing around with fashion. She's realising that she can show off her personality through the clothes she wears. And she's got a waist this time!