Kathy Beale
With her husky voice, earthy charm and expert way with a bacon buttie, Ian's mum Kathy Beale was a legend in most Square dwellers' lunchtimes.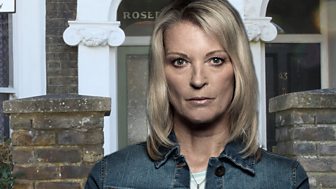 | Fact title | Fact data |
| --- | --- |
| First appearance: | 19th February 1985 |
| Address: | 45 Albert Square |
| Occupation: | Market stall holder |
Inspiring Ian Beale with his entrepreneurial nature, Kathy ditched her crafty sideline of knitting jumpers, instead buying the Café and renaming it Kathy's. And thus, the Beale empire was born...
Kathy was no stranger to heartache. Having been raped by music teacher Marcus Duffy at the age of 14, she gave the resulting baby, Donna, up for adoption. Rape struck for a second time, this time by Wilmott-Brown. Her first marriage to market-trader Pete Beale crumbled, her second marriage to bully boy Phil Mitchell imploded. Daughter Donna turned up and took her own life. How much more can a woman take?
She had affairs with Laurie Bates, Eddie Royle, Tricky Dicky... even Vicar Alex tried to give up the cloth for her! A brief affair with Phil's brother, Grant, made her come to her senses. To cap it all she lived with the shame of being Ian's mother. She fled to the South African sun with son Ben to live with brother Ted. Whilst there, she met and married a guy called Gavin; but sadly they died in a car accident. Or so we were led to believe...
Kathy is now back in The Square living with and working for her son, Ian.
Played by Gillian Taylforth
Find out more about Kathy's Walford connections and play quizzes and games in our family tree.