Greece: Cleo Mitilineou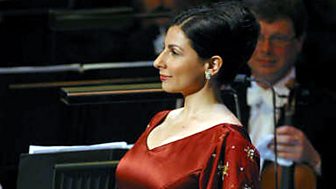 BBC Cardiff Singer of the World and Song Prize competitor
Cleo was born in Thessaloniki and raised in Cyprus. She trained at the Franz Liszt Academy, Budapest and won the bel canto scholarship at the 2000 Francisco Viñas competition, Barcelona.
She was a semi-finalist in the 2003 Maria Callas Competition, Athens and in April 2003 won first prize in the International Competition in Miskolc, Hungary.
Cleo was a member of the Opera Studio of the Hungarian State Opera where roles included Magdalenna in the Hungarian premiere of The Saved City by Fekete Gyula and Voce del Cielo and die Erste Zofe in the premiere of Zemlinsky's Der Zwerg and Lesbina Le Pescatrici by Haydn.
In December 2002 she sang in Haydn's oratorio Die Schöpfung (Gabriel, Eva) in the Cairo Opera House.
Cleo enjoys Greek folk dancing, reading, writing poetry and cooking.
Singer of the World with Orchestra Concert 1 repertoire
Mozart: Or sai chi l'onore, Don Giovanni
Leoncavallo: Qual fiamma avea nel guardo!...Stridono lassù, I Pagliacci
Bizet: C'est des contrebandiers...Je dis que rien ne m'epouvante, Carmen
Puccini: Chi il bel sogno di Doretta, La rondine
Rosenblatt Recital Song Prize Concert 4 repertoire
Brahms: Blinde kuh, Songs Op 58 No 1
Brahms: Auf dem Schiffe, Songs Op 97 No 2
Brahms: Erinnerung, Songs Op 63 No 2
Richard Strauss: Freundliche Vision, 5 Songs Op 48 No 1
Richard Strauss: Malven, Op Posth
Sibelius: Svarta rosor, 6 Songs Op 36 No 1
Sibelius: Säf, säf, susa, 6 Songs Op 36 No 4
Kodaly: Várj meg madaram, 3 Songs Op 14 No 3
Kalomiris: Ehe yia