Becky Atkinson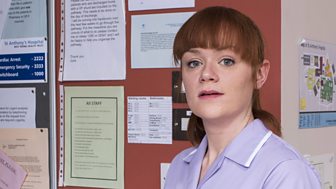 22-year-old Becky Atkinson is Mandy's only daughter and works alongside her mother as a healthcare assistant at St Anthony's Hospital.
Single mother Becky lives at home with her parents who help her to care for her 5 year old daughter Reah. She knows there are problems at home but turns a blind eye to it – she's got enough on her plate getting by from day to day. Having dropped out from sixth form, Mandy helped her to get a job as a healthcare assistant at St Anthony's. Becky is a lovable personality with a good heart but she's not the most reliable person in the world; her friends would affectionately describe her as 'a bit ditzy'. She's a typical 22-year-old girl who loves going out with her mates or hitting the shops – if only she could afford to do it!
Becky took over Nurse Helen's numbers when Helen quit the syndicate four and a half months ago. She's the newest and youngest member of the syndicate.