Heavy Metal Fan Letters
In 1989 Arena's Heavy Metal explored what its millions of fans worldwide saw as the true incarnation of the eternal flame of rock 'n' roll. From Heavy Metal's origins in the blues to the Black Country and beyond, Arena hosted a truly unbeatable line up including Jimmy Page, Ozzy Osbourne, Led Zepelin, Black Sabbath, Motorhead, Guns 'N' Roses, Iron Maiden, Deep Purple, Metallica, Megadeth, Slayer, Kiss, David Lee Roth and Napalm Death.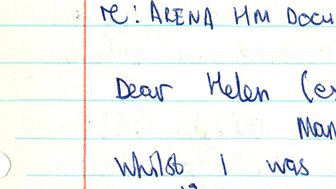 Dear Helen...
At the time of filming, Heavy Metal was much maligned and misunderstood by the public and critics alike. The year before saw over 100,000 fans make the pilgrimage to Donington Park for the East Midland's annual Heavy Metal festival. The director, Helen Gallacher, turned to the small ads in the back pages of Kerrang, the Heavy Metal music magazine, to find out more about these pilgrims that were so dedicated to 'HM' music.
Excuse the informality - I can't be bothered

Buzz, Bradford
You can read here a selection of the letters Helen received from HM fans, in response to her contacting a variety of 'for sale', 'wanted' and 'band members' ads posted by fans in the back pages of Kerrang.
Mike 'The Thrasher' Sandell, who had advertised 'HM' tapes for sale, wrote that having goals in life such as 'being a creative director of an advertising agency, having a wife and children (I hope it's soon),' meant that he 'doesn't sound like the typical 'head-banger'.' On hearing Metallica's Kill 'Em all in 1983, Mike 'The Thrasher' Sandell fell in love with Metal and began a Canadian university radio show playing the likes of Slayer, Destruction, Nuclear Assault and 'basically anything that's Heavy.'
Damian Hill wrote to the BBC arguing for more coverage of Heavy Metal, 'coverage is unfairly confined to pop and classical. There are thousands, perhaps even millions of frustrated rock fans in this country.' Damien too challenges the preconceptions of a 'head-banger', 'There seems to be a general misconception about 'HM' fans: the stereotypical view is that they are moronic, dirty, long-haired, teenage yobs; I am 20 years old, I have short hair, I have 7 'O' Levels, 3 'A' Levels, I am at Oxford Polytechnic doing a degree and I most certainly am not a yob.'
Eve, then a 17 year old schoolgirl from Budapest, posted an advert in Kerrang offering her talents as a singer for a metal band. Eva writes that 'foreign metal-mags (especially from the west) aren't available (in Budapest).' Having received 93 letters in response to her advert, Eve was somewhat despondent that having been mistaken for being a boy, she was generally asked if she either owned a motor bike or how long her hair was.
Joseph Geesin who, aptly, was studying Metallurgy and Materials at Birmingham University, offered Helen access to his extensive 'HM' record and tape collection. He also casually mentions that his father, Ron Geesin (an experimental composer and performer) collaborated with Pink Floyd on Atom Heart Mother.
And finally, 'Buzz' from West Yorkshire, who writes to Helen without any formality because, 'I can't be bothered.' Buzz had posted a small ad requesting tape recordings of metal bands, in particular hardcore and thrash. He argues, 'The reasons I don't like 'straight HM' a la Iron Maiden et al are simple. Firstly, the music holds no energy or excitement for me. Secondly and most importantly, the sexism brandished by these bands is abhorrent to my values of anti sexism/anti-racism etc. At 15 Buzz was already involved in promoting UK bands ('as his priority') but was needing to get his hair cut before starting back at grammar school.
Read all the letters by following the link to the gallery below.
Visit The Arena Hotel
Black Sabbath perform War Pigs in 1971. Taken from the 1989 BBC Arena programme, Heavy Metal.