MacKenzie 'Big Mac' Chalker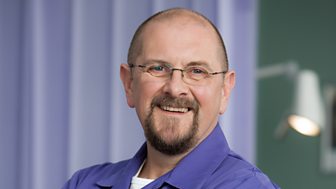 | Fact title | Fact data |
| --- | --- |
| Arrival: | 24th October 2007 |
| Final Appearance: | 11th June 2016 |
Big Mac tries to be everyone's friend and loves nothing more than sharing a few jokes over a nice cup of tea. When things don't go his way he can be overly sensitive, and just a little bit grouchy. He's unlucky in love, but eternally optimistic that this will change. He loves his country and he's very proud of his service in the army.
Previously our well-loved porter, his new role within the team means that he gets a unique insight into the patients' lives as he assists with their treatment, without the tough responsibilities of a nurse. His laziness can often get him in trouble, but he can always rely on his best friend Noel to bail him out.
Big Mac Facts:
His mother died of a long drawn out cancer.
He served in the army… as a chef.
Big Mac can speak sign language.