Stephen Dedalus
Andrew Scott plays Stephen Dedalus in James Joyce's Ulysses, dramatised by Robin Brooks.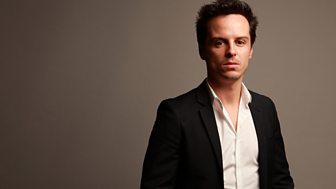 An aspiring poet in his early twenties. He had a Jesuit education and seemed destined for the priesthood. But he has rejected the church and now struggles with issues of faith and doubt in the wake of his mother's death, which occurred less than a year ago.
He is intelligent and extremely well-read, loves music and would dearly love to be a professional singer. He drinks with a group of medical students, but he is mistrustful of Buck Mulligan, who is much closer to the Dublin Literary set than he is.
Stephen's main pre-occupation is to get money. His relationship with his father is very troubled and he is determined to be independent even if the combination of poverty and drink damages his health. His teeth are rotten and he is terrified of thunderstorms.
Stephen's early life was the subject of Joyce's first novel, A Portrait of the Artist as a Young Man.
About Andrew Scott
Andrew has just finished filming The Scapegoat with Mathew Rhys and Eileen Atkins, directed by Charles Sturridge, as well as The Fuse with Christopher Eccleston for the BBC. He recently played the lead role in Emperor and Galilean at the Olivier, and filmed SHERLOCK for the BBC. He was nominated for the South Bank Show Award in 2011 for his role in Design For Living at the Old Vic.
Andrew won the 2012 BATFA for best supporting actor for his role as Jim Moriarty In Sherlock. He was nominated for a Drama League award for his performance in The Vertical Hour by David Hare with Julianne Moore and Bill Nighy on Broadway. Olivier Award winner for outstanding achievement 2005, whatsonstage nomination 2006 Irish film and tv award best actor 2004,shooting star award berlin ff 2004.