Colonel Putnis
Putnis is one of Major Liepa's superiors at Riga Police HQ.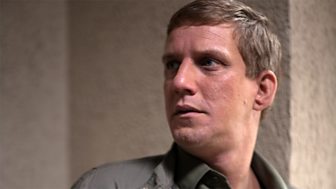 One of the new breed of law-inforcement officials, he has "rules" about how policemen should conduct themselves.
I must say, Kurt, you're a difficult man to protect.

Putnis
He dislikes the idea that Karlis has gone off to Sweden under his own steam, and was conducting investigations about which he knew nothing.
He's constantly frustrated in his desire to change the regime at Police HQ by his older colleague, Colonel Murnieks.
He's welcoming to Wallander as he sees the Swedish policeman as a potential source of help in his endeavors.
Artūrs Skrastiņš
Artūrs Skrastiņš was born 18 September 1974, in Jelgava, when Latvia was still part of the USSR (from Wikipedia).