Tracy
Retired policewoman Tracy lives alone and works as a security guard at the local shopping centre.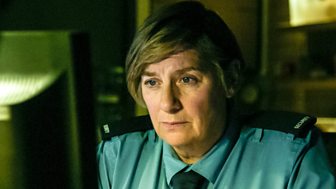 Her career in the police was unremarkable and her life now fairly solitary though not without its pleasure, whether that's her regular stop off at Thornton's on her rounds, the new kitchen she's having put in or her upcoming walking holiday in Yorkshire. Tracy doesn't suffer fools, has a dry wit but is uncomfortable with displays of emotion or affection. She's had relationships in her youth but has been single for a long time. Tracy's self -contained. Then one day on her rounds in the shopping centre, she intervenes to stop a mother hitting her five-year-old daughter. And her life changes radically. The intervention sets off a surprising train of events in which Jackson becomes involved. As Tracy starts to open up to the little girl, the abused little girl opens up to her, a novel experience for them both. Meanwhile, Jackson starts to find emotional connections to a case in which Tracy was involved as a rookie WPC in which a young boy seems to have disappeared.
Victoria Wood
Victoria Wood CBE is an English comedienne, actress, singer-songwriter, screenwriter and director. Wood has won five awards from fourteen nominations. She began as a comedy star, with the award-winning television series Victoria Wood As Seen On TV and became one of Britain's most popular stand-up comediennes. In 1998, she wrote and starred in the award-winning sitcom Dinnerladies. In 2006, she won two BAFTA awards for her one-off drama for ITV1, Housewife.
Her most recent credits include: Loving Miss Hatto (TV Movie) 2012, Eric & Ernie 2011 (TV Movie), Little Crackers (TV Series) 2010, Mid Life Christmas (TV Movie) 2009, Victoria's Empire (TV Series) 2007.