DSU Martin Schenk
DSU Martin Schenk's universally feared steel-trap mind and intuition have been transferred from Complaints to the Serious and Serial Unit, where he heads a successful and formidable team.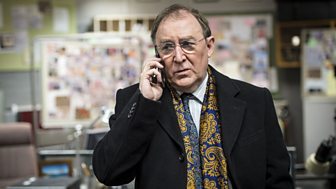 Schenk always dreamed of such a unit but never pursued his ambition for the sake of his wife's peace of mind. After she passed away he finally accepted his calling.
Remaining always suspicious, always pragmatic, he plays the game. Simultaneously his loyalty to his team and to Luther is unwavering.
Though Luther's unorthodox methods and disregard for personal safety continue to challenge Schenk, he knows his team is stronger with Luther back in the fold.
Dermot Crowley
Dermot Crowley has worked extensively in the West End and on Broadway, at the RSC and the National Theatre, most recently alongside Chiwetel Ejiofor in Rufus Norris' production of Everyman. Dermot won the Los Angeles Drama Critics Award for his performance in Martin McDonagh's Cripple of Inismaan.
His film work includes The Lady in the Van, Babel, The Legend of Bagger Vance, Son of the Pink Panther, Octopussy and The Return of the Jedi.
As well as three seasons of Luther, his television work includes Borgia, Hunted, Spooks, Bleak House, Jonathan Creek, Poirot, Foyle's War, Midsomer Murders and Father Ted.