Colin Evans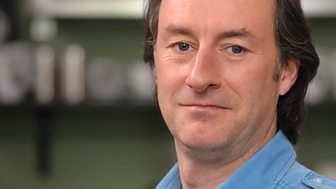 Mae Colin yn ddyn sy'n hoffi mentro ond sydd ddim bob tro yn llwyddo. Mae'n ddyn caredig a llawn hwyl ond yn drwsgl ac yn dueddol o wneud camgymeriadau byrbwyll ar adegau.
Mae Colin yn dad i Izzy a Lois, yn frawd i Yvonne ac yn gyn ŵr i Gaynor. Mae'n hoff o dynnu coes a chwerthin. Yn wir, mae Gaynor wedi ei gyhuddo o beidio cymryd digon o gyfrifoldeb o'i fywyd a'r gwir ydy, dydy e ddim wastad wedi bod yno i'w ferched. Gadawodd e Gaynor mewn trafferth ariannol difrifol rai blynyddoedd yn ôl, ond y ffaith i Gaynor gael affêr a achosodd i'w priodas nhw chwalu. Erbyn hyn fodd bynnag, y merched sydd yn dod gyntaf iddo heb os.
Mae Colin wedi mentro ar sawl gyrfa yn y gorffennol ac wedi gweithio i ABD fel labrwr cyffredinol, fel prentis i Iolo a mae e hyd yn oed wedi gwerthu hufen iâ yn ei fan ei hun.
Tra'n gweithio tu ôl i'r bar yn y Deri, cafodd Colin berthynas gydag Anita tu ôl cefn ei gŵr, Meic. Torrodd Colin ei galon pan ddewisodd Anita geisio adfer ei pherthynas gyda Meic pan ddaeth y gwir i'r fei, yn hytrach na mentro i berthynas gydag ef.
Colin Evans (English)
Colin is a bit of a wheeler dealer and likes to take risks, but isn't always successful. He's kind-hearted and full of fun but can often make the wrong choice.
Father to Lois and Izzy, Colin hasn't always been a model dad, but by now his daughters are definitely the most important things in his life. He's Yvonne's brother and was married to Gaynor for years. Colin is a leg-puller and likes a laugh. In fact, Gaynor has accused him of not taking life seriously enough.
He left Gaynor in financial difficulties for a few years, although it was Gaynor's affair that led to the demise of the marriage.
Colin has turned his hand to many a job in the past, working as a labourer for ABD, a plumber's apprentice and even driving an ice cream van.
While working behind the bar at the Deri, Colin had an illicit affair with Anita. When the affair was exposed, Anita broke Colin's heart by choosing to rekindle her relationship with her husband, Meic, rather than venture into a relationship with him.