Tatiana 'Tattie' O'Hara
Originally from the Ukraine, Tatiana ('Tattie' to her friends) came to Scotland with her teenage daughter Christina to find a better life.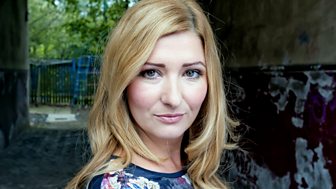 A nurse at the Shieldinch medical centre, Tatiana is a thoughtful soul who has a habit of burying her head in the sand when it comes to dealing with her own problems – much to the frustration of Christina.
A chance meeting with Big Bob O'Hara at a music festival in Oban changed Tatiana's life – she was immediately drawn to his warm character and caring nature. There is a natural empathy between the two, a genuine connection they both feel, in spite of the cynics.
After a few false starts and interference from would-be love rival Iona, Tatiana and Bob made a go of their relationship. Only trouble was she failed to mention she was already married to Christina's father and was facing deportation from Scotland.
Far from driving a wedge between the two, it brought them closer than ever and they decided to get married. But the course of true love never runs smoothly and Tatiana found herself in the arms of her ex-partner when she travelled back to the Ukraine to ask for a divorce. Worse still, she ended up pregnant by him before suffering a miscarriage.
Bob stood by Tatiana the final nail in the coffin came after Tatiana fell into the arms of Dr Dan on his return to Shieldinch, leaving Bob heartbroken.
Magdalena Kaleta
Magdalena plays Tatiana 'Tattie' O'Hara in River City.
Joined River City - 2011
From - Poland
Star Sign - Cancer
Loves - My family, friends, my dog, tennis and good food
Loathes - Racism
TV Treat - Any cooking programmes and all the sports channels showing tennis, I can happily watch it 24/7