Sarah Eden-Winn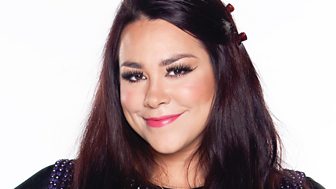 | Fact title | Fact data |
| --- | --- |
| Age | 27 |
| Hometown | Weston-Super-Mare |
| Favourite Voices | Beyonce, Jessie J, Whitney Houston, Mariah Carey |
"I've been singing since I learned how to talk! I first sang on a proper stage when I was 9, I performed my first public gig when I was 11, and after school I studied performing arts at Weston College. For the last 15 years or so I've been up and down the country singing at all sorts of events and gigs.
I'm always asked "why aren't you on the voice?!"

Sarah
I can't get through a single gig without someone asking me "why aren't you on the voice?!" And here I am! I'm so grateful to have been given this amazing opportunity, and I'm so excited about what the future may hold."
DO YOU HAVE ANY BAD HABITS?
My obsession with jewellery!
WHAT'S THE BEST THING YOU'VE EVER DONE?
Winning £10,000 in a singing competition in 2012, and singing to 1000's at a few gigs I've done over the years.
ANY PHOBIAS?
I'm terrified of my cats getting fleas!
WHAT'S YOUR MOST EMBARRASSING MOMENT?
Falling over into a drum kit during a gig.
I still managed to keep singing on the way down and back up again though!
DESCRIBE YOUR PERSONALITY IN 3 WORDS
Creative, Loyal, and Silly!