Pippa Ballantyne
Beautiful, entrepreneurial and manipulative, Pippa Ballantyne is a former school friend of Zinnie's who turned to escorting to fund her university law degree.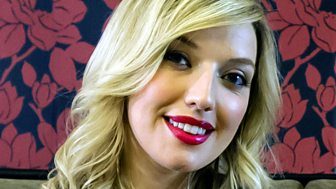 Once she'd graduated, Pippa did an internship at a law film but quickly discovered she was being judged purely on her looks, not ability – of which she was really proud. When it became clear that this was always going to be an issue, Pippa decided to embrace it and went back to escorting.
While she does enjoy sex and did not feel emotionally connected with the men she slept with, there was a part of the process that made her feel too out of control.
Pippa then decided she would harness her beauty and her entrepreneurial abilities and she set up her escort agency - Opulence. Pippa is tough, but she is also charming, seductive and works hard to make sure that her 'girls' are protected.
Joy McAvoy
Joy plays Pippa Ballantyne in River City.
Joined River City - August 2013
From - Glasgow
Star Sign - Leo
Loves - Animals
Hates - Negativity
TV Treat - Homeland, True Blood, Sons Of Anarchy