Ray Strickland
Ray is of an older generation than Barry and Tracy. In his seventies, he's wheel-chair bound and lives with his wife Margaret.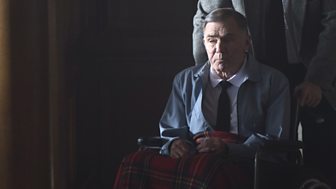 Bio
Margaret has suffered with depression all their married life exacerbated by their inability to have children. Ray has loved Margaret and we sense this marriage has been an uneasy but genuine lasting partnership, surviving Ray's affairs in the past, which he and his peers saw as acceptable behaviour. Even Margaret, whilst being unhappy with it would feel that this was how men in that job in that society behaved. But one affair with a prostitute holds a dark and complex secret that thirty years later has the power to turn Ray's marriage to tragedy, not because of infidelity but the lost chance for Margaret to be a mother.
Maurice Roëves
His television roles include the 1984 Doctor Who serial The Caves of Androzani, Days of our Lives (1986), Tutti Frutti (1987), Spender (1991), Star Trek: The Next Generation (1993), the BBC adaptation of Vanity Fair (1998), EastEnders (2003) and A Touch of Frost (2003). His film roles include; Oh! What a Lovely War, The Last of the Mohicans 1992, the Judge Dredd film (1995), The Acid House (1998) and Beautiful Creatures (2000). Some of his most recent credits are: Falcon 2012, Harrigan 2012, Brighton Rock 2010.