Colette Valois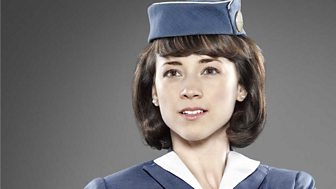 Colette is the best friend you could ever have, she listens but doesn't judge, she's empathetic, but tough when she needs to be. Originally from France, she is haunted by the loss of her parents in WWII.
Her search for fulfillment sometimes results in bad decisions, especially those of a romantic nature. But Colette is the eternal optimist, and can always look at the bright side. She's always there to lift your spirits if you're having a bad day.
Karine Vanasse
Award-winning Canadian actress Karine has dazzled audiences with performances on both the big screen and TV. At age 14, Karine took the lead role in Emporte-Moi, to much critical acclaim, winning awards including the Chlotrudis Award (USA), the Gala des Jutra Award, the Festival du film Francophone de Namur Award and the Filmcan Festival Award for Best Actress.
Karine co-produced and starred in 2009 film Polytechnique, which earned nine Genie Awards and she recently starred in Woody Allen's Midnight in Paris and was in the cast of Belle Epoque. She has also starred in numerous short films and is no stranger to TV, starring in miniseries Killer Wave and October 1970.