Pennie Latin
Pennie Latin presents BBC Radio Scotland's lunch-time cookery show.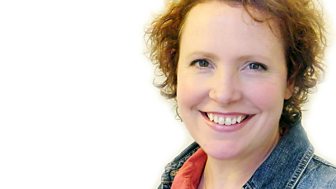 When I told a friend I was going to present 'The Kitchen Café' and was worried I'd have enough to talk about she roared with laughter "all you ever do is talk about food" she said "we all come to visit you in Inverness when we need a good feed!"
Many of my earliest memories are helping my mum cook – kneeding bread, mincing meat, sitting down together while we planned the family food for the month ahead (my mum was scarily organised). Somehow cooking and a love of great food just settled in my bones and now it's pretty much guaranteed that at any time of day if I'm not eating then I'm either cooking, shopping or thinking about what's next on the menu in our kitchen at home.
When I'm not talking about food I'm a senior radio producer by trade, specialising in speech and documentary programmes. Over the years I've made documentaries for BBC Radio Scotland, Radio 2, Radio 3 and Radio 4 on everything from jazz to sport, comedy, history and science. On the presentation side of things I spent 5 years at BBC Radio 4 as a Continuity Announcer (yes, the rumour's true, I did read the Shipping Forecast) and over the years have presented a range of documentaries for BBC Radio Scotland, most recently 'Rock on Rockall' and 'It's a Painful Business'.
And when I'm not working then I'm out on my beloved road bike, climbing hills, kayaking or just generally monkeying around with my young daughter Breagha!