Blackcap
The blackcap nest is precariously perched within a bramble bush.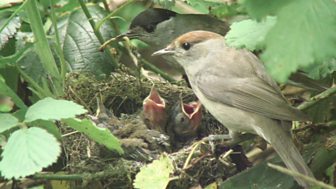 Brambles are a common place for blackcaps to nest. They are one of a group of birds known as scrub warblers, due to their preference for nesting in scrubby bushes, such as brambles.
The nest can seem to move from day to day, as the bramble bends in the wind and grows very fast.
The female and male parents are easy to distinguish - only the male has the black cap. The female sports a brown one.
We followed this family for 4 days on the webcams, until the nest was emptied by a weasel. We didn't see any of the nestlings again...