Kate Cameron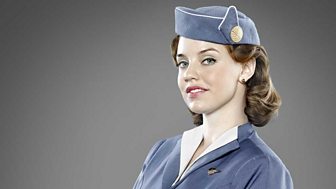 Kate lives in the shadow of younger sister Laura and is competitive by nature. She's rebelled against the traditional female role of the era - becoming a wife and mother, and joins Pan Am as an escape, until Laura follows in her footsteps.
Now Kate must learn to manage her past with her ever-changing present as she takes on the challenge of becoming a spy for the CIA, a role which finally makes her feel unique.
Kelli Garner
Kellli is one of today's most versatile rising stars both in film and on stage, across comedy and drama.
She notably starred as Faith Domergue, opposite Leonardo DiCaprio, in Martin Scorsese's award-winning The Aviator and went on to star with Ryan Gosling in Lars and the Real Girl. She voiced the character Marcie in G-Force for Jerry Bruckheimer and starred in Ang Lee's Taking Woodstock.
Her stage roles include an off-Broadway performance as the young Nina in Chekov's The Seagull with Dianne Wiest and Alan Cumming and Dog Sees God, directed by Trip Cullman.