Ravi Sagoo
Ravi presents BBC Radio Scotland's over-night programme All Night Long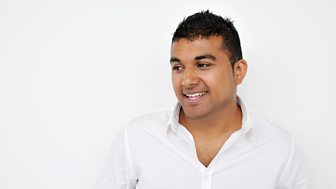 Since starting out as a contributor on BBC Radio Scotland programmes in his early teens (which had nothing to do with his constant weekly letter(s) to the then Head of Radio Scotland!) Ravi's been hooked on the broadcasting world ever since.
Before joining BBC Scotland as a freelancer in 2005, Ravi worked behind the scenes in television for various commercial broadcasters and independent production companies. In the same year Ravi won the BBC Talent New Radio Presenter Search 2005 and hosted The BBC Asian Network Chart.
It was during this period Ravi made his presenting debut for BBC Radio Scotland presenting across many of the station's music, arts and culture and sport output; including guest presenting the 'Janice Forsyth Show' and 'Mary Ann Kennedy's Global Gathering', regular reporter spots for 'The Radio Café' plus leading two music series of 'Ravi Sagoo Presents...'
As well as covering popular music programming Ravi has presented and produced authored documentaries for BBC Radio Scotland including; 'The Asian Polis' and 'When Love Comes to Town' a documentary about Europe's largest matchmaking festival in Ireland... he went as a single young man and came back as a single old man!
In between, Ravi's energetic persona didn't go unnoticed – his television presenting work includes credits for Children's ITV and MTV, UK.
Ravi will be on air Sunday nights to Friday mornings presenting 'All Night Long with Ravi Sagoo'.
The show will give a full taste of the BBC Radio Scotland musical repertoire, a look ahead to that evenings specialist music programme with '4play'. You can learn the potted history of the 'Featured Artist of the Week', tune into the 'The Zone Hour' from Culture, Comedy, Music to Arts, Classical and Jazz; see what artists are teaming up for the 'Morning Duet'; relive your gig and concert experience with 'In Town Tonight' and see what's happening across the whole of BBC Radio Scotland.
So if you are a fellow night owl Ravi invites you to get in touch with your comments, music requests and stories of the day and night. Email the show or text live during the programme.