Dorcas Lane
Dorcas Lane is Candleford's Post Mistress.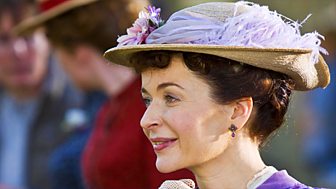 Dorcas loves to indulge in life's little pleasures - dresses, cakes and even the odd bit of mischief. But she also relishes her place at the heart of the community and is ever willing to help out those in need, including the newly-arrived Gabriel Cochrane. But while Gabriel certainly requires help, he does not neccessarily seem to want it from Dorcas.
Julia Sawalha
Julia is best known for playing Saffy in Absolutely Fabulous. She is no stranger to period drama, having appeared in Pride and Prejudice, Martin Chuzzlewit and Cranford. Julia has also appeared in several films, including voicing Ginger in Chicken Run. Her father Nadim and sister Nadia are also actors.