Gian Luca Loddo
Prior to dancing, Gian Luca was a gymnast for ten years. Aged 18, he was spotted by a talent scout and joined Cagliari Opera House as an acrobat.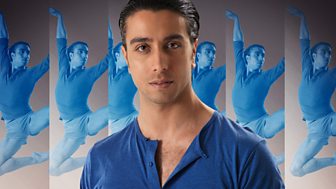 | Fact title | Fact data |
| --- | --- |
| Age | 32 |
| From | Sardinia, Italy |
At 32, Gian Luca is the oldest dancer in the competition. He is a passionate Italian Contemporary dancer and male model who moved to London last year. He says "I am doing SYTYCD because I want to show what I have learnt in my lifetime; I am not afraid to show I'm an interesting performer with a strong personality and a sensitive side, Italians do it better."
Gian Luca quit a chemistry degree to follow his dreams of being a dancer. His first job was in Waterwall but he then moved on to Milan where he worked as a dancer and male model and then Switzerland where he worked for various dance companies.
Since being in London, he has worked on Alexandra Burke's Start Without You video and was a mime artist in the We No Speak Americano video by Yolanda be Cool.
He has been told he resembles Charlie Chaplin and likes to think he has "the same elegance of an old fashioned movie star".
Gian Luca is also a keen artist and one day hopes to open his own exhibition.
Gian Luca's Progress
Showcase Special: Gian Luca took part in the group opening dance, the Boys' dance and a Contemporary dance with Danielle, Katrina and Stephanie.
Round 1: Gian Luca did a Jazz routine with Paige.
Gian Luca and Paige had to dance for their lives, but were saved by the judges.
Round 2: Gian Luca did a Cha Cha Cha with Stephanie.
Gian Luca and Stephanie had to dance for their lives.
Unfortunately, Gian Luca went home.