Adam Macy
He's got his feet firmly on the ground... except when he's on the tractor!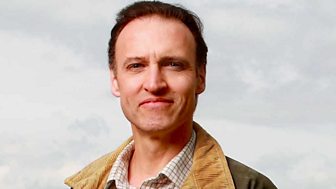 | Fact title | Fact data |
| --- | --- |
| Played by: | Andrew Wincott |
| Born: | 22 June 1967 |
| Status: | |
| Occupation: | Farmer |
| Lives at: | Honeysuckle Cottage |
Forthright, principled and mentally and physically tough from childhood, Adam nevertheless has a sensitive side. This can be apparent in his dealings with half-sister Debbie Aldridge, who he often fears is out to undermine him over the farm's business.
After graduating in agricultural economics and working on development projects in Africa he returned to Ambridge in 2003. He's a valuable member of the Ambridge cricket team.
Step-father Brian Aldridge found it hard to adjust to the news that Adam was gay. Despite Adam's innovations at Home Farm, Brian still favours Debbie's ideas for the farm's future.
I'd love to expand the soft fruit

Adam Macy
Likes - Most sports, Africa, cake
Dislikes - Sibling rivalry, disloyalty
Highs - Meeting the love of his life, Ian
Lows - When it looked like Ian was gong to father a child for a friend, a one night stand with one of the fruit pickers, losing the Estate work
Andrew Wincott
Andrew was born in Banbury, Oxfordshire, but now lives in London. His grandfather and uncle were farmers at Home Farm (sounds familiar?), Sibford Ferris, near Banbury, where his mother also grew up. She went to school in the village – the same school as Godfrey Baseley, creator of The Archers.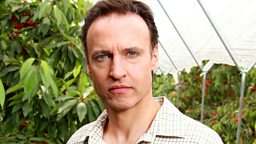 Andrew has worked with numerous theatre companies throughout the UK. Leading roles include Tartuffe, Rochester in Jane Eyre, Alec in Tess of the D'Urbervilles, Vronsky in Anna Karenina, and the Actor in The Woman in Black.
In 2009 he toured in a Bath Theatre Royal revival of Lloyd George Knew My Father with Edward Fox.
He has performed in countless dramas, serials, comedies and readings for BBC Radio, including Book at Bedtime and the Afternoon Story. He's recorded fifty audio books. Twice he has been a member of the BBC Radio Drama Company and he plays Simon in the award-winning Radio 4 comedy Clare In The Community.
Other career highlights
Playing Jack Absolute in The Rivals in Vienna has to be a career highlight. A great part in a wonderful play in an amazing city. I've also had the good fortune to play many of Shakespeare's mavericks – Malvolio, Jaques and Mercutio. I also loved playing the bluffing and disguise in Sleuth.
the closest I'll get to being in The Sopranos

Andrew Wincott
I was lucky enough to play against type as a gangster, Louie, in Neil Simon's Lost In Yonkers, the closest I'll get to being in The Sopranos.
Favourite
Actor - I tend to think in terms of favourite performances rather than favourite actors but if pushed I would have to say Cary Grant for sheer insouciance. He could be dangerous and funny at the same time. One of the fastest and funniest performances on film is Grant as Walter Burns in His Girl Friday.
Book - The most enjoyable book I've read fairly recently is Colm Toibin's The Master. He skilfully evokes the world of Henry James in James' own style without being over-indulgent or complicated. Joseph Conrad's a favourite too. The Secret Sharer has to be one of the greatest short stories ever written, for its fascinating ambiguity and economy of style. I also recently read Anthony Sampson's Who Runs This Place? It's a startling and penetrating analysis of modern Britain.
Film - I prefer to think of my top ten favourite films but would probably have to say North By Northwest – a perfect blend of thriller, comedy and romance. A suave hero in Cary Grant, icy blonde (well it is Hitchcock!) in Eva Marie-Saint and a smoothly villainous James Mason. Great one-liners and terrific set pieces.