Mary Day
Mary is a kind and gentle soul.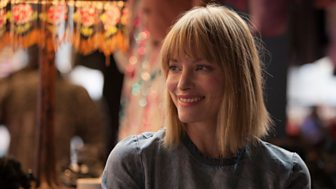 A potential new love for Luther, she offers the happiness and peace he deserves. Mary sees the good in Luther, sees what he could be; she is his hope and redemption.
Having been hurt by a previous relationship, Mary doesn't want to play games. She is an incurable romantic, but can she stand by Luther when the past returns to haunt him?
Sienna Guillory
Sienna studied acting at the New World School of the Dramatic Arts in Miami before winning her first role in the ITV production of Jilly Cooper's Riders. She then went on to study mime at Jaques Le Coq, and combined a successful modeling career with performances in a string of low budget independent films.
Prior to Luther, Sienna starred in BBC productions of The Buccanneers, The Virgin Queen and earned critical acclaim playing the lead role of Jenny Bunn in the BBC TV movie Take a Girl Like You.
She first reached a global audience in H.G. Wells' The Time Machine alongside Guy Pearce.
Sienna went on to star in TV mini-series Helen of Troy for USA Networks, and was cast opposite Colin Firth in the hit British film Love Actually. Guillory's other film work includes lead roles in the Resident Evil franchise, Eragon, Inkheart, Gunless, The Big Bang and in Spike Jonze's romantic robot short I'm Here.