Alice Carter
Accustomed to having everything handed to her on a plate, Alice has had to do a lot of growing up over the past few years.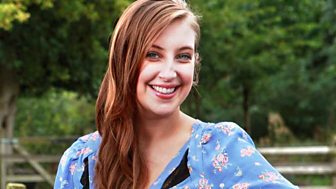 | Fact title | Fact data |
| --- | --- |
| Played by: | Hollie Chapman |
| Born: | 29 September 1988 |
| Status: | Married |
| Occupation: | Aeronautical engineer |
| Lives at: | The Nest, Home Farm |
Spending some of her gap year on an AIDS project in Africa with her sister Kate Madikane, she turned from spoilt child to thinking young woman. This enabled her eventually to cope with and accept the news of her father's illegitimate son Ruairi. She even began to feel some affection towards the boy.
But she can shake things up herself. In the vacation before her final year studying engineering at Southampton University, Alice returned from Las Vegas married to Chris Carter. Jennifer was appalled!
Nonetheless, they seemed to settle down to a blissfully happy mariage. But Alice quickly became frustrated by her first job after graduating. An interview in Canada led to devastating consequences.
Read the full story of Chris and Alice's relationship - with audio clips
Party? Count me in...

Alice Carter
Likes - Her horse Spearmint, technical stuff
Dislikes - Toeing the line
Highs - Marrying Chris
Lows - Discovering the results of her father's infidelity, Chris's accident
Key relationships
India Beesborough (Friend)
Amy Franks (usually a friend) - When they stay off the issue of hunting