Clara
A shop assistant in Ladieswear, Clara's sharp cynicism masks a heart in turmoil.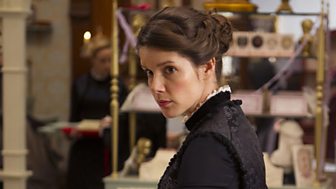 Beautiful and strong-minded, Clara attracts the attention of staff and customers alike, but her cynicism keeps most at arm's length. Despite the blatant rivalry between them, she and Denise have forged a strong friendship and although Clara would never admit it, they've come to rely on one another. Often seeking to quell the pain of a troubled past, Clara's biggest fear is that she will never be able to forget it.
Sonya Cassidy
Sonya's screen credits include the upcoming film, The Fifth Estate with Benedict Cumberbatch, 2 series of Vera alongside Brenda Blethyn and roles in Endeavour, Lewis and the epic saga, The Tudors.