Aleks Shirovs
Aleks Shirovs loves the ladies nearly as much as he loves his own reflection, but don't let that fool you – deep down lies an ambitious man with big plans…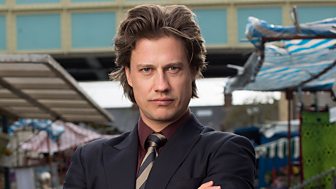 | Fact title | Fact data |
| --- | --- |
| First appearance | 24th January 2014 |
| Address | 91A George Street |
| Occupation | Market Inspector |
Aleks initially came to the UK with his friends to make some money before going back to Latvia. But Aleks loves the London lifestyle. He's got a proper job in Walford, whipping the market (and poor Tamwar!) into shape and doesn't see himself returning home any time soon - especially with so many feisty females in Walford to flirt with!
Living in London has turned Aleks' head and he's intent on making the most of it. Aleks wants the penthouse flat, the sexy girlfriend, the luxury car. And what Aleks wants... Aleks gets… And he doesn't care who he has to step on to get it.
Played by Kristian Kiehling
Find out more about Aleks' Walford connections and play quizzes and games in our family tree.