DSI Stella Gibson
Gillian Anderson plays DSI Stella Gibson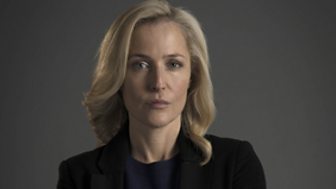 Gillian Anderson plays DSI Gibson
Stella Gibson was a Detective Superintendent in London's Metropolitan Police when she arrived in Belfast to conduct a twenty-eight day review into a murder case that had stalled and provided no suspects.
Gibson was quick to link that murder to two other recent murders and suggest they were the work of one man. As a result she was asked to head the Task Force charged with the task of stopping that man.
Gibson has had experience of male violence against women through her extensive professional life and is an implacable opponent of such behaviour - seeing it as the unacceptable face of patriarchy. She sets out with complete determination to stop the killer and see that justice is done on behalf of the victims. As series 3 begins, Stella has got her man but will he stay alive to receive his punishment?
Powerful and charismatic Gibson is determined, driven and obsessive.