Andrew Burgess
My family have farmed for four generations. Me and my brothers are all in farming, veg is in my blood.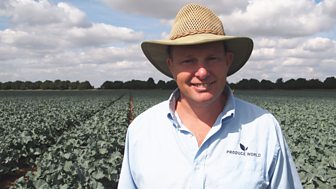 I was born and raised in farming. I went off to Shuttleworth Agricultural College to study and have done every farming role you can think of. I'm also a big fan of environmental and organic farming and have worked with the Soil Association and represented British carrot growers. I contract farm land all over the east coast of England, farming up the country through the year, as far north as Scotland and as far south as Suffolk. We grow a range of veg; carrots, broccoli, potatoes, and onions, but I'm always on the lookout for something new.
My greatest hero is Winston Churchill. He never knew when he was beaten!

Andrew Burgess, veg farmer
I've travelled the world discovering and trialing new veg for the farm and developing new lines for sale but there's nothing better than being outdoors, in the fields with the crops.
Most people think a farmer must spend his whole time farming but I'm lucky to be active too. I play rugby, climb and love outdoor pursuits. My favorite poem and code for life is If by Rudyard Kipling.