Laura Van Der Heijden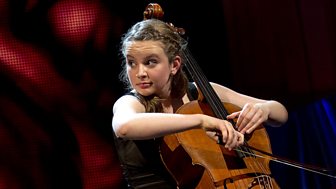 | Fact title | Fact data |
| --- | --- |
| Age: | 15 |
Laura van der Heijden was born in Sussex to a Dutchman and a Swiss mother. She started her musical education with the recorder at the age of four which was soon followed by the piano and then the cello at the age of six. She passed her Grade 8 Associated Board of the Royal Schools of Music exams for piano with Sue Harvey and cello with Marina Logie at the age of 10, both with distinction.
In 2005 Laura joined the Junior Department of the Royal College of Music where she enjoys all forms of ensemble playing. She studies piano with Emily Jeffrey and has also successfully competed as a pianist in the UK and in Switzerland.
Since late 2008, Laura has been a cello student of the British-Russian cellist Leonid Gorokhov. Last year they performed together at the Brighton Festival and in Germany.
Laura's first public performance as a cellist was at the age of nine with the Jupiter Chamber Orchestra. Since then, she has given many recitals and played with various orchestras including recent performances of the Elgar Cello Concerto with the Worthing Philharmonic and Dvorák Cello Concerto with Somerset County Youth Orchestra.
Laura has participated in competitions in the UK, Holland and Switzerland, winning numerous prizes. In 2010 she won first prize with distinction in the final of the Swiss National Youth Music Competition, which lead to her performing the Boccherini Cello Concerto in G with the Zürich Kammer Orchestra at the Tonhalle, Zürich. She is the 2011 winner of the Marjorie Humby competition at the Royal College of Music, 2011 Beckenham Musician of the Year and 2012 Woking Young Musician of the Year.
Laura lives in East Sussex. She is a pupil at Sackville secondary school in East Grinstead and enjoys as much of a teenage social life as her commitment to music allows. She is a keen and able linguist; she is trilingual and is now also learning Russian.
Laura loves her family and friends, her dog, good food, skiing and dancing and music in almost any shape or form. She feels very privileged to be part of BBC Young Musician which she has watched with great interest since she was a little girl.
Category Final repertoire
Locatelli: Cello Sonata in D, 1st Mov: Allegro
Brahms: Cello Sonata No.2 in F, Op.99, 2nd Mov: Adagio Affettuoso
Rimsky-Korsakov: Le Coq D'Or, Fantasy (arr. Zimbalist)
Accompanist: Tony Ingham
Final repertoire
William Walton (1902-83)
Cello Concerto
Moderato
Allegro appassionato
Lento - Tema ed improvvisazioni
William Walton is one of the most intriguing figures in twentieth century British music. Born in Oldham, Lancashire to parents who were both singers, his life's journey took him southeastwards - first to Oxford, then London and eventually to the exotic Italian island of Ischia. In fact it's difficult to shake off the sense that he lived a charmed life - from being taken in by the Sitwell family, who helped launch his career with the shockingly modern Façade, to meeting a fabulously glamorous Argentinian woman, with whom he set up a home and garden in the most dreamy of Mediterranean settings.
Walton's Cello Concerto was written in 1956, one of the first pieces to be composed at his new home overlooking the Bay of Naples. Commissioned by the Russian émigré cellist Gregor Piatigorsky (a man once called the greatest string player ever) Walton wrote the piece more easily than many - he was never a 'quick' composer.
The Concerto is in three movements - the first a poem for cello and orchestra, the second a dazzling muscular scherzo and the finale is a theme and four variations, concluding with a sultry epilogue. Of Walton's three concertos (the others are for viola and violin) this was his favourite: 'he felt it was the closest to his personality', wrote his wife Susana. So here, perhaps, is a fascinating window on the soul of a composer in love and judging by the fabulous surroundings in which he now found himself, in arcadia.