Edimar Dos Santos Abreu
Brazilian firefighter Edimar Dos Santos Abreu shows a UK firefighter how to fight forest fires across the Amazon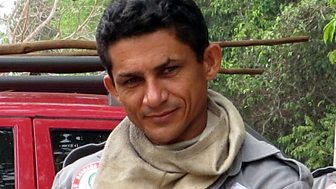 | Fact title | Fact data |
| --- | --- |
| Age | 38 |
| Lives | Mato Grosso, Brazil |
| Family | Wife, Valdilene and three sons, Nildo, Igor and Lago |
Edimar's parents moved to Mato Grosso state in the 1960s. They were part of the original group of settlers that came to the region looking for a new start on new land.
Edimar grew up in a thatched hut with no electricity; he was a true pioneer's son.
Edimar was introduced to John Carter by a local, when John was looking for a new manager to run his ranch.
Edimar had never worked for anyone else before and was unbelievably shy, but he was willing to learn. With his young wife, Valdilene (who he had been at school with), Edimar moved to John's ranch.
Over the years John saw in Edimar the leadership qualities needed in someone to run the Alianca Da Terra's fire brigade. John offered him the job, and Edimar rose to the challenge.
Edimar is now 38 years old and has been married to Valdilene for 18 years. They have three sons, Nildo, Igor and Lago. Edimar has done well enough to send his two eldest sons to a private school three hours away, and Lago, the youngest, is schooled in nearby Nuvo Santo Antonio.
Edimar loves playing football, but like many folks here who have been isolated from Brazilian society, he does not have a national team he follows and supports. His passion is for his family, helping others, supporting his church, and fighting fires to protect the land he grew up on.
His dream is to see a better region for his children without the corruption that is currently rife, and which has proper governance.