Albert
Friend and confidante of Bert Bushnell.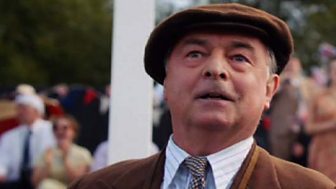 Albert works at Maidenhead Rowing Club and is behind Bert every step of the way. He truly believes that his friend can and will win gold and, with his brother alongside, he is a great support to Bert throughout his Olympic journey.
Ron Cook
Ron is a graduate of Rose Bruford College and has appeared in television productions Sharpe, Bergerac, Doctor Who, Silent Witness, and The Hound of the Baskervilles. He has also appeared in films The Cook, The Thief, His Wife & Her Lover, Quills, Secrets & Lies, Topsy-Turvy, Chocolat, Charlotte Gray, Thunderbirds and Hot Fuzz.
He was nominated for the Laurence Olivier Theatre Award in 2000 (1999 season) for Best Supporting Actor for his performance in Juno and The Paycock at the Donmar Warehouse.