Hercules
Always ready with a story extolling his many virtues, trouble seems to follow the garrulous Hercules wherever he goes. But beneath his gruff, ruddy exterior lies a lovable soul, who, when push comes to shove, will do anything for anyone. Fiercely loyal to his friends – and the crown – Hercules' biggest problem is that all too often he lets his heart rule his head. Deceptively brave and heroic, with unparalleled strength, Hercules is a vital ally to Jason and often to be found fighting at his side.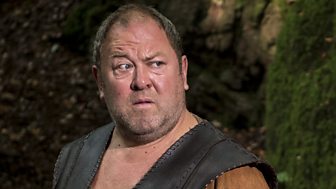 It might be your job to save all of Atlantis, but it seems it's our job to save you. So just you remember who the real heroes are…

Hercules
From the moment they meet, Hercules is intrigued by Medusa.