Talk it Out: Carwyn
My Dad died when I was small...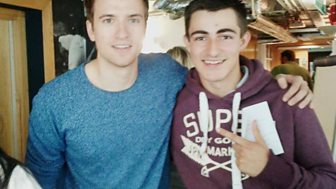 ...then, around the time I was leaving primary school, my Mam started developing aches and pains in her wrists and knees.
She was diagnosed with rheumatoid arthritis, a disease that slowly deteriorates joints and progressively worsens over time. My younger brother and I had to deal with this: she was ill and getting worse.
Soon we started having to physically get her out of bed. We would wash her, dress her and comb her hair as her hands were too painful to do any of that herself. We'd cook meals, prepare a cocktail of medication and put her back to bed.
Some days I'd come home to find Mam crying in agony. The pain at times was too much for her to handle. This is what affected me most. I felt almost helpless.
Over the next seven years, I was dealing with school, trying to help run a family farm, and looking after Mam. I was exhausted and constantly worrying. However I never felt I could talk about it with anyone. I didn't want anyone to find out about my responsibilities. No one else could really understand my situation, especially friends the same age as me.
Three years ago, I spoke about our situation for the first time, to nurses at Mam's hospital. When they realised how bad things were, they put in place full-time 24 hour carers at our house. Now they do a lot of the work for Mam that used to be down to us.
It's changed my life. I play rugby and I can do things with my local Young Farmers club, which I never would have been able to do before. Please don't suffer in silence or think people can't do anything to help. I can't imagine going back to how things were before Mam's carers came in.
Helplines
If you would like to Talk it Out on any issues you're dealing with at the moment then head over to the Radio 1 Advice Helplines page where you'll find loads of numbers on a variety of issues to help you get started.