Lee Crowley
Hip Hop dancer Lee is known as Reckless Lee for his crazy break dancing moves.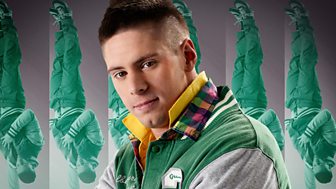 | Fact title | Fact data |
| --- | --- |
| Age | 20 |
| From | Farnborough |
As a B-Boy (Break dancer), Lee says that everything is a battle so he hopes he can "battle and win SYTYCD" and he is ready for anything. Lee admits "my weakness is my lack of experience but I can be moulded whereas other dancers can't easily change."
Growing up, Lee competed as a trampolinist at national level and then started break dancing aged 13.
Lee has worked with Hip Hop dance troupe Boy Blue but is also part of a crew in Wales called Soul Mavericks. Career highs for Lee include performing at the MTV awards and performing with pop star Lemar on Series One of SYTYCD.
Over the years, Lee has injured himself many times including knocking himself out, breaking his leg whilst trampolining, as well as whiplash and concussion from landing the wrong way over a garden fence. He says "people worry I will injure myself when I'm dancing but I'm always in control."
When Lee was younger, he loved super heroes such as Batman and likes to believe he is a super hero who can fly when he is break dancing.
Lee's Progress
Showcase Special: Lee took part in the group opening dance, the Boys' dance and a Hip Hop dance with Charlie, Rithy and Israel.
Round 1: Lee C did a Lyrical Hip Hop dance with Katie.
Round 2: Lee C did a Contemporary routine with Katie.
Round 3: Lee C did a Jazz routine with Katie.
Round 4: Lee C did a Broadway routine with Katie.
Lee C and Katie had to dance for their lives.
Unfortunately, Lee C went home.