DCI John Luther
DCI Luther, an extraordinary yet ordinary man, stalks the streets of London waging his own personal war on crime.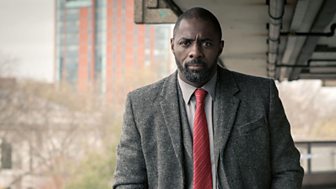 Luther returns, passionate and ruthless, his life is his job. For him tomorrow always brings with it a new crime to solve, a new criminal to hunt. That is until love crosses his path and offers him a chance of happiness.
But nothing ever comes easily for Luther. Not when innocent lives are under threat. Not when the ghosts of his past return. Not when his worst enemies are his own colleagues. Can Luther ever find peace? Or will he always be haunted by the past, consumed by his campaign for justice? His dedication always a curse and a blessing to those close to him.
Idris Elba
Idris Elba has won a Golden Globe, BET Award and an NAACP Image Award, and earned two Emmy Award nominations, an additional Golden Globe nomination and another Image Award nod for his work on Luther.
He recently starred in Ridley Scott's sci-fi thriller Prometheus, with Charlize Theron; Ghost Rider: Spirit of Vengeance, with Nicolas Cage; and in the superhero action hit Thor, directed by Kenneth Branagh. This summer Elba will star in Guillermo del Toro's dystopia science fiction film Pacific Rim. In the autumn, Elba will be seen in two very different films, the sequel Thor: The Dark World, and Justin Chadwick's Mandela: Long Walk to Freedom, in which Elba portrays the heroic anti-apartheid freedom fighter who became South Africa's first black president. His other upcoming films include the thriller No Good Deed, on which he also serves as executive producer.
Elba previously shared in a Screen Actors Guild Award nomination as a member of the cast of Ridley Scott's 2007 true-life feature American Gangster. He received an Image Award nomination for his performance in the 2009 thriller Obsessed, opposite Beyoncé Knowles. His additional film credits include Takers; The Losers; Legacy, which he also executive produced; The Unborn; RocknRolla; 28 Weeks Later; The Reaping; and Tyler Perry's drama Daddy's Little Girls.
Elba was already a familiar face to television audiences when he landed his breakthrough role on HBO's critically acclaimed series The Wire. He received an Image Award nomination for his performance as Stringer Bell. In 2009, he demonstrated his comic chops when he joined the cast of NBC's hit series The Office. He later appeared in Showtime's The Big C, earning an Emmy nomination for Outstanding Guest Actor in a Comedy Series. Elba also starred in the HBO movie Sometimes in April.
In 2013, Elba made his directorial debut with SKYTV's Pavement Psychologist and the music video for Mumford & Sons Lover of the Light.