Brenda Tucker
Brenda is smart and resourceful, always ready to take the practical option.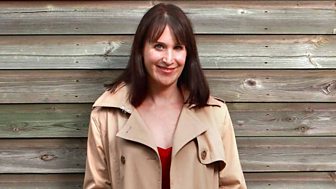 | Fact title | Fact data |
| --- | --- |
| Played by: | Amy Shindler |
| Born: | 21 January 1981 |
| Status: | Engaged to software developer Adrian |
| Occupation: | Works in property |
| Lives in: | Wapping, London |
She swiftly switched career paths from journalism to marketing and became an asset to Amside Property Services.
Her popularity is in part due to her versatility. She can turn on a sixpence from girlie-girl clubbing with her mates to enterprising business woman when the need arises. For a while she had to travel to Leicester to find work, until Matt Crawford came to the rescue.
But poor treatment by Matt's partner Lilian, and Tom's obsession with his business made Brenda increasingly dissatisfied. She ended the relationship in April 2013, and resigned from her job in July.
In March 2014, she returned briefly with news of her engagement and high-flying new life in London.
The London market's absolutely booming

Brenda Tucker
Likes - Slushy movies, the sweet smell of success
Dislikes - Dishonesty
Highs - Getting together with Tom; finally telling Lilian where to stick her job
Lows - The death of her mother Betty in 2005, ending things with Tom
Key relationships
Amy Shindler
Brought up in North London, Amy went on to Cambridge University to study History and gained a BA Honours with Exhibition. She later graduated from the Webber Douglas Academy of Dramatic Art.
Amy has appeared in numerous productions for television including Manchester United Ruined My Life, The Bill, Sisters and Madson for the BBC, Night and Day for ITV and The Baddiel Syndrome for Sky. She has also made a number of films, such as A Mighty Heart, Breathtaking, The Truth Is, Mr Corbett's Ghost and Buster. Amy's career in radio started at the age of ten, when she starred in a children's series.
Plays include Garbo and Gilbert in Love, Sampler T6, Exodus and the premiere of two plays by the playwright Doug Lucie: Guesses At Most and Development. She also played a WAG gorilla in the comedy series, Newfangle, alongside Hugh Bonneville and Maureen Lipman.
As well as being an actress and voiceover artist, Amy writes comedy and is currently developing two sitcom series with the BBC and RDF Media. She contributed to the award-winning Sunday Format for Radio 4 and wrote for the long-running BBC 1 sitcom My Family. Her sitcom Pat and Cabbage started on ITV in September 2013. 
Amy talks about her writing career
Archers highlights
I loved the comedy I got to do when Brenda was going through her promiscuous phase; particularly the fights with Lilian over her hideous toy boy, Scott, and then her sleazy son, James. There was lots of getting drunk, flirting outrageously and then sheer amazement that the relationships never worked out.
There was lots of getting drunk, flirting outrageously

Amy Shindler
Although it was difficult because I lost my mother less than a year before Brenda lost her own mum, I thought the episodes following Betty's death and the impact they had on her relationships with Mike and Roy were very well written. And of course kissing Tom in the car after screaming at Roy during Betty's wake… very challenging, but hugely rewarding scenes to do.
Other career highlights
Working with Michael Winterbottom on his film A Mighty Heart with Angelina Jolie. We filmed in France and the States. It was a very sad film about the death of Daniel Pearl (I played his sister). He was a good man trying to do something about a terrible situation. I hope that it helps to preserve his memory and his work.
Amy on playing Brenda Tucker
I love playing Brenda; she's so outspoken! She feels things very deeply and she's not afraid to let people know. To some extent she's a bit immature in that way, but she's also pretty honest. Taking the bribe from Matt was about the most uncharacteristic thing she's every done, although why she did it was completely understandable, and consequently it got her in the deepest trouble yet.
Brenda can be selfish, but she always tries to do the right thing. If she can just get a break I think she could be a pretty savvy businesswoman one day!
Favourite
Actor - Cate Blanchett and Phillip Seymour Hoffman because they're so versatile.
Book - Pride and Prejudice. Well, who can rival Elizabeth Bennett?
Film - Some Like It Hot. It still makes me laugh after the hundredth viewing.
Embarrassing proclamations of love, a marriage proposal, and break-up....

The actor looks back at some comic and and tragic highlights