Belarus
Representing Belarus is Teo with Cheesecake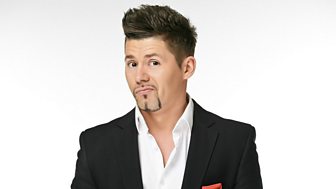 Teo's real name is Yuriy Vaschuk. Born on January 24th 1983, his passion for music was noticed early, gaining recognition after winning a children's talent contest. At 17, Yuriy was invited to work with the National Academic Concert Orchestra of Belarus, where he gained valuble experience in singing, composing and arranging.
I clicked 'T' in Google search and saw it immediately. I liked it instantly and that was it.

Teo
Songwriting led Teo into co-hosting the TV programme Naperad U Minulae (Forward To The Past.) Travelling to rural areas of Belarus to find singers of traditional and ancient songs, Teo rearranges the songs to be recorded and sung with a modern twist by a well-known artist.
In 2009 Teo participated in the Belarusian national selection for the Eurovision Song Contest, duetting with the singer Anna Blagova. Eurovision continued to exert an influence, as he co-wrote two Eurovision songs in 2010 (3+2 and Far Away), All My Love for Alyona Lanskaya in 2012 and again in 2013 with The Rhythm of Love. Teo also wrote songs for two singers he was up against in the 2014 national finals – before deciding at the last minute to enter himself.