Shaun Ley
Shaun joined the BBC as a trainee journalist in 1990.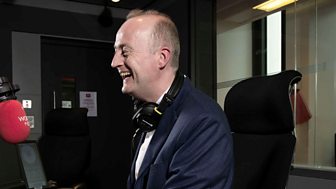 He worked as a reporter and presenter, first on the local news programme Points West, based in Bristol, before moving to London where he was the BBC's political editor and presenter of Around Westminster on BBC2. In 2001, he joined the team of national political correspondents.
He joined The World This Weekend four years later, and was the main presenter of that programme and the Friday edition of The World at One until 2014.
However, his connection to Radio 4 goes back much further, one which until now he's kept quiet about: "Gathering dust in the archives are a couple of radio plays in which a pre-pubescent Ley was allowed near the microphone. In one my friend was hanged. In the other my character contracted TB. Early preparation, perhaps, for broadcasting bad news."
Shaun begins his morning listening by catching the end of the overnight World Service broadcasts on Radio 4 and then following the Today programme as he travels into work. At New Broadcasting House, he joins the programme team poring over the newspapers.
At the start of the day, The World at One is the broadcasting equivalent of a blank page. "It means that the hours before we go on air at 1pm are intensive. Interviews often have to be recorded with very little notice", Shaun says, "so I'm very dependent on the quality of the briefing by producers before the interview, and afterwards on their skill in editing it down to the correct length. Fortunately for me, they're a really talented team."
Although no longer the main presenter of The World This Weekend and The World at One, Shaun will continue to present both programmes occasionally plus documentaries on Radio 4. In the run-up to the General Election, he will also be doing political reporting in Westminster and around the UK for The World at One.