Naga Munchetty
Naga is a financial journalist with 10 years experience of reporting money matters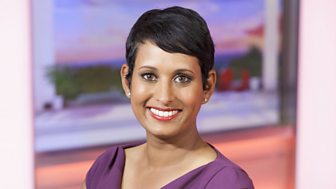 Naga likes knowing all the facts before making decisions, helping others, and has a 'healthy' interest in other people's business - so a job in journalism suits her down to the ground.
She's always had a head for figures. Maths was her favourite subject at school, but she also has a passion for music and can play the jazz trumpet and classical piano.
However, it was a love of writing that led to her studying English literature and Language at Leeds University.
Despite growing up in London, she loved life 'up north' where she not only picked up a degree, but also a knack for cocktail-making after working in various pubs and bars on the weekends!
Naga returned to London to get a postgraduate degree in newspaper journalism which led to her first job as a writer on the City pages of the Evening Standard. She also wrote for the business section of The Observer.
The lure of television proved too strong to resist so she began reporting for Reuters Financial Television, then worked for CNBC Europe as a senior producer and then a business producer and reporter for Channel 4 News.
Just before joining Working Lunch, Naga was a senior presenter for Bloomberg Television.
There she covered stories connected with the health of the economy - guiding viewers through the start of the credit crunch, the collapse of Northern Rock and the economic downturn that's hit Britain and the rest of the world.
At Bloomberg, Naga grilled central bankers, chief executives and fund managers. She gets job satisfaction by making sure that viewers have the best information available in order to make the best decisions about their investments.
Naga's experience puts her in a great position to challenge the financial pitfalls facing consumers today and highlight the opportunities that will help you make the most out of your cash.