Anaru
Played by Temuera Morrison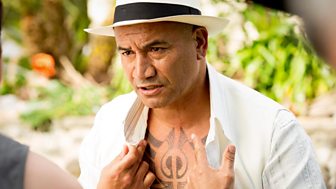 Head of the Vaipiti family, the most prominent and wealthy family on Manutaki, Anaru is a much esteemed and admired figure amongst the islanders, particularly at church. Although a Christian man, he holds a deep respect for the cultural heritage and beliefs of the Cook Islands.
Until recently Anaru handled the management of the family pearl farm, but he has now handed over the reins of the business to his son, Maui, a decision he is determined to honour. A loving husband and father, he dotes on Aumea, his unacknowledged favourite.
About Temuera Morrison
Tem, of Te Arawa and Ngati Maniapoto descent, is one of New Zealand's foremost actors, with a career in Hollywood as well as in New Zealand.
He has appeared in major films such as Green Lantern, Vertical Limit, Star Wars: Episode II and Episode III Episode II, Couples Retreat, Speed 2: Cruise Control, and The Island of Dr Moreau.