Stefan Lindeman
Stefan has transferred to Ystad after a long career in the CID in Gothenburg. His kids have left home and he grew up in Southern Sweden, so he's returned there for a quieter life.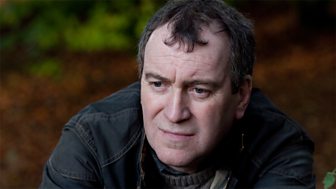 | Fact title | Fact data |
| --- | --- |
| Marital status | Married for thirty years, three grown up children |
| Qualities | Loyalty, diligence, intelligence |
| Flaws | Lack of energy, flashes of bad temper, unimaginative |
Stefan is the perpetual detective sergeant - he's happy with his life and his job as it is, and not interested in climbing the career ladder.
Do you think we're going to get anyone for this? Any of this?

Stefan
He's a details man: if you want computer records analysed, paper chased, niggly investigations undertaken, Stefan can take care of it.
He's also a realist: one of his colleagues was killed on Stefan's first week as a policeman, and the killer was never caught. It left him with an underlying pessimism that sometimes the police don't win.
He's quiet, self-contained, with a grim sense of humour and a rather waspish temper.
Mark Hadfield
Before starting his professional acting career, Mark Hadfield trained at the Royal Academy of Dramatic Art (RADA) (from Wikipedia).