David Olusoga
Presenter of The World's War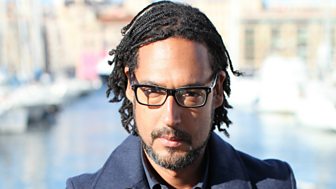 David Olusoga is a British-Nigerian historian, broadcaster and film-maker. Born in Lagos, Nigeria David studied history and journalism before joining the BBC.
He's an award-winning documentary maker and is also co-author of The Kaiser's Holocaust: Germany's Forgotten Genocide and The Colonial Roots of Nazism, author of The World's War and a contributor to The Oxford Companion to Black British History.
David's books and television programmes have explored the themes of empire, military-history, race, slavery, and contemporary culture in the UK and USA. He's currently writing a new book on world slavery.