Martha Kearney
Martha Kearney presents The World at One.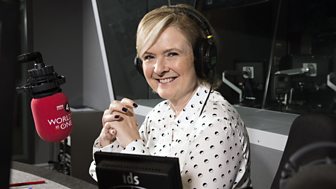 Starting her career at LBC/IRN Radio, she worked as a phone operator and a news information researcher, a reporter, a presenter and a lobby correspondent before spending a year on A Week in Politics for Channel 4.
On joining the BBC she worked as a reporter for BBC One's On the Record between 1988 and 1994 before going to Newsnight, where from 2000-2007 she was political editor.
Martha was nominated for a BAFTA award for her coverage of the Northern Ireland Peace Process in 1998. She was (with Jenni Murray) 2004 TRIC Radio Presenter of the Year and won a Sony Bronze Award for a special on child poverty.
Martha presented Woman's Hour from 1998 to early 2007. In June 2002 she made a special Woman's Hour programme from Afghanistan."One of the most amazing experiences during my time at the BBC was a trip to Afghanistan when I was able to make programmes for both Woman's Hour and Newsnight. I found both programmes complemented each other well. Woman's Hour has a hard hitting current affairs agenda on subjects like women's prisons and domestic violence but the programme also gives me a chance to do live interviews on a much wider range of subjects than news."
Martha has also presented the Today programme and PM on Radio 4.