Michael Mosley
Michael Mosley studied medicine in London and qualified as a doctor but for the last 25 years he's been working as a documentary maker and an award winning science journalist.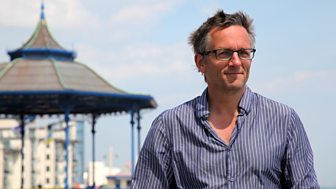 His programmes have won an RTS, an EMMY and he was named 'medical journalist of the year' by the British Medical Association for a ground breaking programme on Helicobacter pylori.
His most recent work includes two Horizons that looked at the benefits of high intensity exercise and intermittent fasting. Recently Infested! Living with Parasites, explored the world of parasites with Michael turning his body into a living laboratory and deliberately infesting himself with them. He's also a regular presenter on The One Show.
In Trust Me I'm a Doctor, Michael investigates the latest evidence behind health claims and headlines. For example is sugar really the new tobacco, do saturated fats causes heart disease and does salt increase our blood pressure.
With other members of the Trust Me team, he sets up an experiment to test the best way to increase our levels of the sunshine vitamin, vitamin D. Is it more sunshine, oily fish or supplements and he goes in search of the truth about mouldy food and sell by dates?