Captain Thomas Gillan
Thomas is a brilliant surgeon but socially awkward and abrupt to the point of rudeness.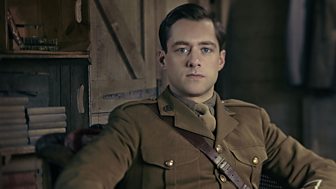 Thomas has thwarted his destiny; as a working class boy from humble roots he's had to fight every step of the way to become an exceptional surgeon and an officer.
He's a boundary pusher and a risk-taker, in fact, he might sometimes be too single-minded when seeking the next clinical breakthrough.
Though their backgrounds could hardly be more different Miles never fails to lighten Thomas's mood and protects him when he becomes too hot-headed. Their friendship is what makes the war bearable for them both.
Thomas is shaken to the core the moment he meets Kitty. Romances are strictly forbidden at the hospital and Thomas never wanted to get involved with anyone at all, too much of a distraction for his obsessive work-ethic.
Kitty constantly challenges Thomas's notions of right and wrong. It's that challenge which attracts and frustrates Thomas in equal measure, leaving potential romance on a knife-edge.
Richard Rankin
Richard recently appeared as Granty in the multi-awarding winning play Black Watch. His previous theatre work includes The Lieutenant of Inishmore, The Pillowman, Mary Queen of Scots Got Her Head Chopped Off, Celts In Seville. Richard's television credits include three series of the Scottish sketch show Burnistoun, Taggart, The Old Guys and Legit.