Lucy Beaumont
Congratulations on reaching the final! What was your initial reaction to getting through?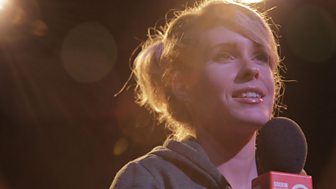 It didn't really hit me at first, I think that's how it must feel when you win the lottery. It's really only now I'm showing off about it.
The best gigs are always in Hull; we have a shared understanding about living in a comical city.

Lucy Beaumont
So what made you want to carve out a career in comedy?
I was living in my own sitcom - people would ring me just to see what scenario I'd got myself into; getting stuck in skips, falling in bins, getting locked in cupboards - I once went to dive in a pool and a whistle went off and I was in an Under 12's breast stroke race. So basically comedy gave me an outlet. I'm now a normal responsible adult.
Tell us about your first, worst and best gigs…
The first gig was for the So You Think Your Funny? competition and it went very well - I wouldn't have been able to continue doing it if it hadn't. Both me and my mother were drunk and she fell off her chair.
The worst gig was in Leeds and all the audience had come because of Groupon. There wasn't a compere; the manager of the venue got his mate to do it and people seemed in genuine discomfort that I was speaking. I had an out of body experience and told myself to go home and get a proper job.
The best gigs are always in Hull; we have a shared understanding about living in a comical city.
Describe what the BBC Radio 2 listeners can expect from your performance at the live final on November 12?
A blunt, dry, honest and suprising account of my life and thoughts so far.
Let's go back to the very start of the competition… What was your experience at the first heat like?
I was a fish out of water in Brighton and had got it into my head that I wouldn't go down well, but it was honestly one of the best gigs ever. The Komedia in Brighton has got to be one of the nicest venues and gigs to perform at. (I now know this is true, they've got it sooo right there.) The audience were just fantastic, I got a wonderful reception and the other performers were lovely too. There was a sense of 'we're all in this together' - I had a wonderful converstion about Hinduism with one of them.
You've been judged by some comedy greats and performed alongside your peers and, of course, Patrick Kielty. Has there been anyone who you particularly enjoyed meeting?
Mark Watson and Zoe Lyons! They're both so cool.
Who – or what – would you say is your biggest competition in the final?
My nerves and sense of self-doubt. I'm just going to try and enjoy it rather than see it as a competiton. A couple of the finalists are friends so I'd be happy if they won.
Is there anything 'extra' you'll be pulling out of the bag for your performance?
Nope, exactly the same!
If you win, what will you spend the £1000 prize money on, and do you have any plans for what you'd like to do with BBC Radio Comedy?
I'd like to take my mum on holiday, she's sort of an amateur reclouse [sic]. (Is that how you spell it?) She'll go out the house for special occasions or if someone offers to take her away.
I have so many ideas for Radio Comedy - mainly to make something funny. My best friend's husband listens to Radio 2 on his milk float. This has nothing to do with the question but I wanted to share that with you.
Finally, why should people vote for you as the winner of the BBC New Comedy Award 2012?
Gosh, well I suppose if they like what I'm doing. I've got so much I'd like to say and do and I've just tried to do it in my own way and will just keep my fingers crossed. (I can't cross my toes as I suffer with cramp, I don't believe it's to do with a low salt intake, my Uncle was riddled with it and he had a fish and chip shop.)